02.04.2020: Onze leveringen aan huis gaan gewoon door, 1-3 werkdagen ♡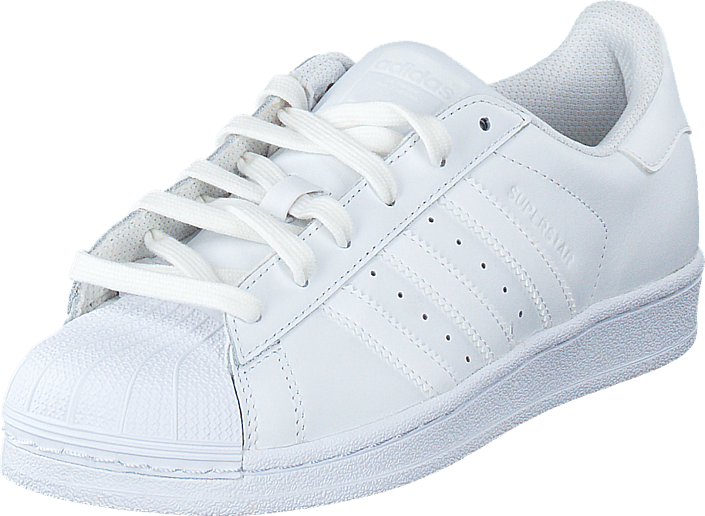 Wil je anderen inspireren? Tag @footway in je foto op Instagram voor een kans om hier te worden weergegeven
3D
Klantgegevens
Waargenomen grootte op basis van 29435 klanten
Productomschrijving
Wit
Leer, Kunststof
Rubber
Veters
49643-00
adidas Originals Superstar Foundation Ftwr Wit


Toen adidas in 1969 het model Superstar introduceerde was dit model meteen een wereldwijde hit. Deze comfortabele schoenen werden geïntroduceerd als basketbalschoenen maar werden als snel populair buiten het basketbalveld. De adidas Orginals Superstar Foundation Ftwr Wit is een strakke witte schoen met een exclusieve uitstraling.


Een legendarisch schoenmodel


Deze mooie schoenen van adidas hebben vele mooie en functionele details. Het bovenste gedeelte van de schoen is gemaakt van leer, met sommige onderdelen van textiel en synthetisch materiaal. De tenen van de schoen zijn vervaardigd van leer, een detail waarmee deze Superstar schoenen bekend zijn geworden. Deze sneakers van adidas hebben een zachte voering wat dit model een comfortabele pasvorm geeft en er ook voor zorgt dat de voeten heerlijk warm blijven.


Eenmodel met vele stijlen


Deze sneakers zijn altijd stijlvol waar je ze ook met combineert. Draagt ze bijvoorbeeld onder een mooie spijkerbroek, trainingsbroek, korte boek of in je favoriete work out kleding. De stijlvolle witte kleur ziet er fris uit en geeft de schoenen een exclusieve uitstraling.


Zorg voor je adidas schoenen


Omdat deze schoenen worden gemaakt van diverse materialen is de beste manier om ze netjes te houden een vochtige doek en wat lauw water. Je kan ook eventueel wat mild reinigsmiddel gebruiken om eventuele vlekken of vuil van de schoenen te verwijderen.
Laat meer zien
Populaire schoenen van adidas Originals